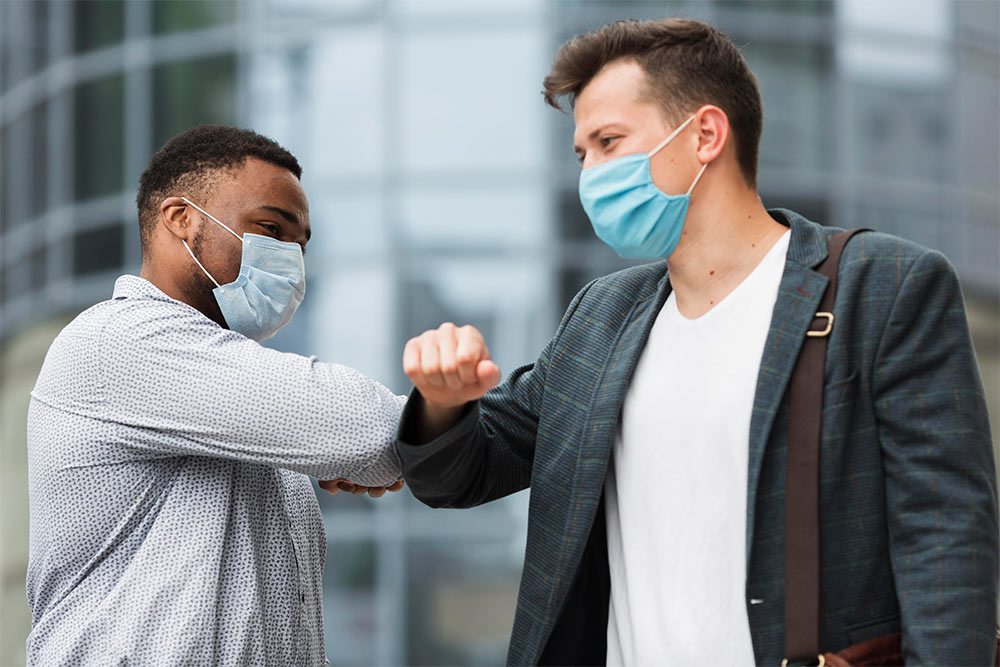 How Covid Changed Verification Of Identity
The Covid-19 pandemic has had a dramatic impact on the way we live our lives. The interruption from lockdowns to usual operations has forced the world to find alternative ways to function. Verification of identity has always been vital to keeping individuals safe from crimes, but since the pandemic began, it has become even more important.
Criminal cyber activity has increased greatly, with a rise in fraudulent transactions and money laundering.With the nation locked down, face-to-face interactions are no longer an option. For this reason, remote identity verification is now the preferred process.
This has brought challenges to many, as businesses have had to turn to digital means of operation, and perform identity verification online.
What Is Verification Of Identity?
Verification of identity, or identity verification is a service used to ensure that information provided belongs to a real person, and that that person is who they claim to be. It is an important security measure used within many industries for various services, and it supports efforts to tackle fraud, money laundering, theft and scamming.
What Is Identity Verification Used For?
Identity verification is used for various purposes in Australia. Common services where identity verification is required include the following:
Applying for loans, financial support or setting up new accounts with banks
Financial transactions including bank transfers
Health care appointments
Registering with services such as health and medical services
Educational services such as online exams
Australian police checks and other background checks
Employment purposes such as screening employees
Applications for visas and citizenship
Immigration purposes
Adoption purposes
What Is Digital Identity Verification?
Digital identity verification is the means of verifying identity online instead of in person. Since the Covid-19 pandemic began, identity theft and other online criminal activity are on the rise. This has meant that the requirement for secure remote processes is crucial in determining that an individual is really who they say they are online.
There are different methods to perform digital identity verification, and may include face recognition and ID document verification through digital processes. It is a service used as an alternative to meeting the individual in person and physically reviewing their documents.
How Does Remote Identity Verification Work?
The procedure for identity verification to be performed remotely varies between services. Usually, ID documentation is required such as an Australian passport, drivers licence, birth certificate and more. Different services require different documents and have various regulations to comply with to confirm a person's identity.
Other means of remote identification include giving personal information such as names, address history and date and place of birth. Some may require fingerprints, voice and/or image verification. Smart systems are able to screen the details to confirm a match, ensuring that the details belong to a real person.
Why Is Verification Of Identity Important?
Verification of identity is extremely important. It is a security measure in place for many industries that access sensitive data or personal information. Before the pandemic, many people would have their identity verified physically, by attending companies and meeting face-to-face with those handling applications. This provides an opportunity to meet the individual and compare their physical appearance to the ID documents they provide.
Online however, the company has no way of viewing the applicant behind the computer. Online services are accessed by many from all over the world, and identity verification is a crucial tool for companies to confirm who they are dealing with before disclosing private information. It is easier for a criminal to commit fraud and other scams online, so the security must be high when determining the identity of somebody.
As an example, an Australian police check performs identity screening by running the person's information through the national criminal database to confirm a match to persons of interest. The details of a criminal record check is confidential, and the police must be sure that the information they access and disclose belongs to the applicant.
What Is Identity Theft?
Identity theft is a serious crime in Australia. It occurs when somebody uses another person's information and claims it as their own. This could be to commit fraud, steal money or any other number of offences.
Because the person cannot be seen, identity theft is more common online. A major benefit of identity verification is to prevent these cases from happening, by making the identity verification process difficult for criminals to exploit. The tougher the measures, the lower the likelihood of this type of activity.
How Did Covid Change Verification Of Identity?
The main impact of Covid on identity verification is the process becoming remote for more and more industries. Companies which would usually verify identity in person have had to move online and set up digital identity verification to be performed without having to meet in person.
As well as the pandemic forcing people to stay at home, research suggests that people now prefer to use online services that do not require them to go out. While many companies have suffered with the changes brought by the pandemic, others have created functional, convenient and safe online systems to support verification of identity. It is the more convenient option to submit applications online and many people now see this as the better option.
In order to be successful, identity verification online must be strict, and the process should be streamlined and comply with government laws for safety, security and privacy.
What Else Has Changed Since Covid?
Lots has changed since the pandemic began in 2019. With regards to identity verification, the main changes have been an increase in online criminal activity, employment screening processes, customer expectations, and business procedures.
Rise In Criminal Activity
Cyber crimes are at an all time high since the pandemic began. For this reason, many services have had to rethink their security methods for handling important information online.
Online financial transactions have increased throughout the pandemic as the closure of shops has forced consumers to buy online. The increase in moving money online has increased the risk of financial crimes. Criminals can attack money transactions that are not secure, and implement ways to scam others out of their financial information.
The online world is targeted by a number of criminals, and this is where remote identity verification comes in to ward off criminals and to safeguard individuals using online services. Added security measures are a must for any service operating online, particularly following the challenges introduced by Covid.
Pre-employment Screening During Covid
A major challenge faced by employers during the Covid pandemic is the inability to meet a potential employee in person. Interviewing is a regular part of the hiring process, but the pandemic forced this common procedure to stop.
Employers have had to implement other ways of hiring candidates while working remotely. Identity verification has become an even greater factor for the hiring process. Employers need to ensure that the candidate is who they say they are, and that their credentials are correct and true. Remote identity verification is becoming more and more common across Australia for employment purposes.
Many industries require police clearance, and a police check online is a common procedure for hiring new employees, operating as another part of the security criteria to determine the identity of an individual.
Customers And Trust
Not only is verification of identity important for businesses, it is an increasingly popular expectation from customers and clients. People want to know that if they are using an online service for various purposes, that their information is protected from fraud.
Entering personal information online is worrisome for many, particularly because the service is remote, without support from a representative of the company in person to guide the process and ensure the right precautions are followed. Verifying identity using online services is a priority in today's world. Expectations are high, and people want to feel as safe as possible when using such services.
Services without sufficient safety measures will lose customer trust and interaction. People want to feel confident providing their information, whether for employment purposes, bank transactions or a criminal background check.
Changes For Businesses
The digital world has continued to adapt to the changing needs of customers, and the Covid pandemic has accelerated this even further. With face to face interactions limited, everybody has become more reliant on the digital space to function on a daily basis, whether for shopping, banking or remote work.
This has brought challenges to businesses, and they have had to transform their current approach to identity confirmation. This means implementing new regulations to operate safely and functionally online. To keep customers using a business, digital identity verification must be optimized to meet the best security measures, as well as user accessibility. The process must be made as simple as possible while meeting high expectations of security, and satisfying customers with the handling of their personal information.
Perhaps the biggest challenge for businesses during Covid has been creating a remote identity verification process. Many considerations should be taken when implementing a new policy. The service should consider the following criteria:
Accessibility
Ability to operate fully digitally
Meeting the right legislation, privacy and protection laws
Providing a streamlined service that is straightforward to use, particularly for first time digital users
Verification of Identity For Australian Police Checks
An Australian police check or National Police Check can be obtained in two ways. The manual option requires an individual to physically attend the local authority and complete an application using paper-based forms. Alternatively, it can be obtained by applying for a police check online. The online application can be completed from home, and this has been the go-to option during the pandemic.
Personal information must be provided, as well as 4 identity documents, and a selfie. The selfie requirement is to allow the image to be digitally screened to match the individual in the selfie to the ID document.
The process for submitting a police check request online is relatively easy, but it is important that all information provided is correct and up to date. A national police check contains sensitive information, and verifying the applicant's identity is a top priority.
Crime Check Australia provides police check applications online. More information regarding the requirements can be found on the FAQ page.
Verification Of Identity Going Forward
Identity verification programmes operating online must have an adequate service with high levels of security. Without it, services can face exploitation from criminals and fraudsters, which in turn loses customer trust in the company. Services should be multi-layered to prevent risk and ensure the identity of each person using the service is authentic, to stop financial crimes.
Since Covid, remote identification is the new normal. Companies and services must be well equipped to handle the security demands to safeguard users, and to maintain loyalty and trust as the world readapts to the changes brought by the pandemic.